Help LESA-USA by giving through Amazon Smile
Please consider supporting LESA-USA Inc. through Amazon Smile!
Use the same login information that you would for Amazon, but enter through the web address as follows: 
When you select LESA-USA Inc., 0.5% of your Amazon purchase price is donated to our organization!  There is no additional cost to you when making purchases through Amazon Smile.  It is an easy way to support our mission.
Our (LESA-USA Inc.) unique charity link is https://smile.amazon.com/ch/01-0705447.
A simple click on the link above helps you skip the charity selection process, and you're automatically given the chance to support our organization in raising funds without a variation in anything you do. And YES, you can use your existing Amazon.com account on Amazon Smile.
Shop online at your favorite stores through Goodshop and every store will give back a percentage of your purchase to LESA-USA Inc.

Do you like to shop online? Who doesn't? Did you know you can support LESA-USA by shopping at your favorite stores with Goodshop? Goodshop works with more than 5,000 stores to provide the best deals and coupons as well as donating a percentage of your purchase back to LESA-USA Inc. Some stores donate up to 20% of your purchase back to LESA-USA Inc. Just sign in through Goodshop and choose LESA-USA Inc. as your charity. Then you can search your favorite stores and shop online like you normally would. You will be given lots of discounts and coupons for each store. You can also see how much of a percentage each store donates to our organization. Goodshop has already raised more than $11 million for the participating charities. This is a great way to give back to this organization with no cost to you. The money we will raise through this will help fund the various projects through LESA-USA for the Girl Child and Community at large.
Here are some examples:
Ralph Lauren: up to 4%        Macy's: 3.5%
Amazon: up to 1.5%         Harry and David: 4.5%
Orbitz: up to 5%                                   Expedia: up to 5%
Hotels.com: up to 3.5%                      Express: 2.5%
Kohl's: 2%                               Carson's: 2%
Click HERE to go to Goodshop.com to sign up and learn more. You can also shop your favorite stores, get the best deals at each and give back to your cause ON THE GO, with the Goodshop app for iPhone & Android. HAPPY SHOPPING!
GOAL for 2019 – Target Donation Rebate from AmazonSmile & Goodshop is $1000

SHOPPING AND RAISING FUNDS
Ladies, the month of December came and left us, but with it came all the joys of Christmas. That time when it feels like the entire world experiences God's great love for mankind. … And we in turn, in our own way pass this love and our need to Honor God for His Goodness, Kindness and Mercy unto our fellow family, friends and acquaintances in the act of time spent and gift giving. These gifts are usually purchased and that of course calls for one of our favorite pass times – shopping. The shopping not only for everyone else but more importantly for ourselves as well – A way to acknowledge the hard work we put in daily, whether at work or for the family. We give of ourselves tirelessly at times with no regards to of wellbeing. So, shopping becomes that outlet for a lot of us women; our stress-reliever on most days. However, the downside of shopping is the guilt of overspending on items and not enough funds left to support other charitable organizations such as our sisterhood. Well, not to worry any longer ladies, LESA-USA Inc is here to your rescue. There are ways for you to continuously shop while giving back to this fine sisterhood through programs such as Amazon Smile, and Goodshop. These programs offer us our necessary stress-reliever outlet without the feeling of guilt from spending too much when shopping for ourselves or others. These programs donate a percentage of our total purchase order to LESA-USA Inc without an extra charge to our purchase. So, the more you shop ladies, the more you give towards our organization and the more funds we raise without a change in habits or putting in the extra time and effort in raising funds. This means no more rushing home to get to those packages before everyone at home sees that you placed an order. From here on out, hold your head up high and express to people all the good you're doing because you shop. Boldly tell anyone who questions your online shopping routine, of the projects and good works this sisterhood handles.
Now here's how you can start shopping while raising funds for this organization:
AmazonSmile:
Amazon has become a one-stop shop for many of us, and with Amazon Smile customers are given the opportunity to make their usual purchases as they normally would. However, the added bonus is that Amazon will donate a portion of the purchase price to your favorite charitable organization – LESA-USA Inc. AmazonSmile essentially is a simple and automatic way for you to support your favorite charity every time you shop, at no cost to you. When you use AmazonSmile to make purchases, the AmazonSmile Foundation will donate 0.5% of the purchase price from your eligible AmazonSmile purchases. The purchase price is the amount paid for the item minus any rebates and excluding shipping & handling, gift-wrapping fees, taxes, or service charges.
Our (LESA-USA Inc) unique charity link is https://smile.amazon.com/ch/01-0705447. A simple click on the link above helps you skip the charity selection process, and you're automatically given the chance to support our sisterhood in raising funds without a variation in anything you do.
Goodshop:
Just like with AmazonSmile, Goodshop is another company where a certain amount of your purchase price gets donated to a cause of your choice, but this time around we are not limited to shopping with single store online. When you sign up to use Goodshop and click on the shop button or on a coupon deal, they (Goodshop) notify their partner stores that they referred you to the partner's site. Goodshop is then given a referral fee when you make a purchase and they split the referral fee 50/50 with your cause of choice (LESA-USA Inc).
A little background info here – Ladies, imagine for a minute here that in the U.S. alone, Americans spend $300 billion in e-commerce per year. If even 3% of that revenue was funneled into the nonprofit sector, it would mean a bonus of $90,000,000 every single year – money needed for organizations such as ours to be able to continue the great work we've started. So, over the past nine years, Goodshop has helped organizations do everything from medical research, to buying books for local libraries, to helping clean up pollution from city rivers, and now assist LESA-USA Inc raise funds towards whatever projects we have in mind.
Goodshop in essence is an online shopping mall that donates a percent of your purchase price to your cause when you shop at one of their 3,000+ partner stores including top retailers like Amazon (1.5% donation), Expedia (up to 5% donation), and Staples (2.5% donation).
So, you're convinced … Now how do you sign up? Easy.
Google Goodshop (or whatever search engine you use) or go to https://www.goodsearch.com/goodshop.
Scroll all the way to the bottom of the page and under "Causes", click on "Choose a cause"
In the search bar that opens, type "LESA" and hit enter.
Our organization comes up as a result of this search. Click on it, and it opens up more info about our cause; the amount raised for our organization throughout the years; and the dedicated supporters (our members) we have had through the years.
Click "Download Now" on the bottom of the page and a brief YouTube video on Goodshop comes up with the "Get Gumdrop for Free."
When you click on "Get Gumdrop for Free", it would ask for you to add an extension of Gumdrop by Goodshop to your web bar. Click "Add Extension". After you do this, the Gumdrop icon stays on the right side of your address bar and ready to be activated on whatever online store you're on. Gumdrop would even give you information about the number of coupons available for that store and how much would be donated when you click on "activate donation" and complete the purchase. Take a look at the examples below for anntaylor.com and walmart.com.


So, sisters year to date (since 2008 when we signed up as a nonprofit organization with Goodshop) we've raised a total of $2,002.95 with huge kudos to Agnes Enlangwe, Sheila Tegomoh and Patricia Mbunwe (leading the pack of supporters), who have stayed committed to using Goodshop and thus raise funds for our sisterhood. Join us sisters to please give them a round of applause for their dedication to this task.
Now ladies, if you think about it what we've raised throughout the years we could honestly surpass that within a year. We presently have a little over 100 members, and if we each spent at least a $1,000 shopping via Goodshop, at the end we would have spent over $100,000 and thus a "cool" $3,000 in extra funds going to LESA-USA Inc. Think for a minute how great that would be … and with some of our shopping habits, that figure is quite conservative. So, lets together do for 2018 and beyond, see just how well we can meet and surpass our goal of at least $3000 a year. For extra motivation, look at the check we just received last month.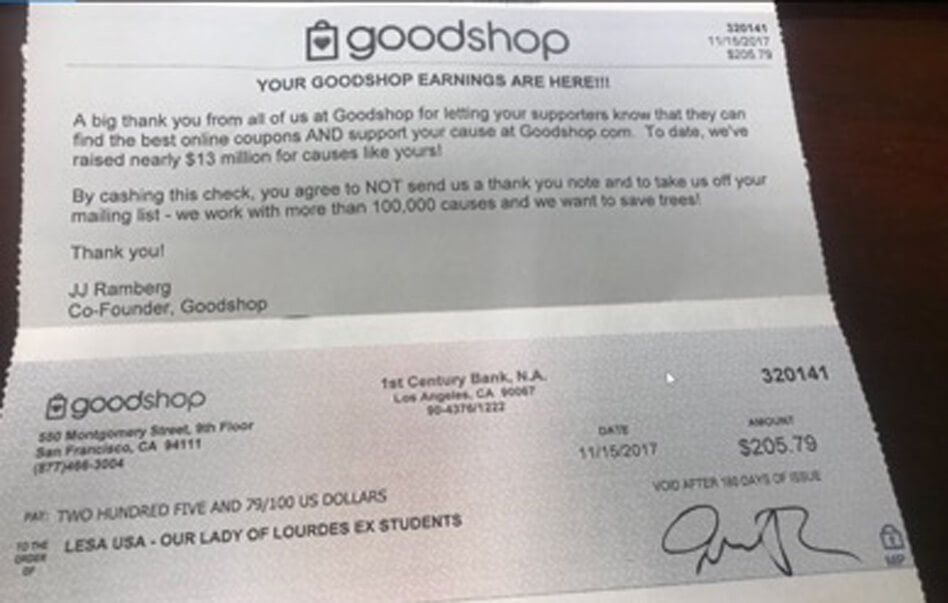 One can only imagine just how large the check from Goodshop would be when we all remain committed to using their service for our shopping needs.
GOAL for 2018 – Target Donation Rebate from AmazonSmile & Goodshop is $4000





LESA USA's SCHOLARSHIP FUND AIMS TO
MAXIMIZE THE EDUCATIONAL
OPPORTUNITIES FOR GIRLS
And Skills That Form The Foundation For
Life-long Learning And Professional Success.