Every year with Gratitude, we come together as an Organization; as a Sisterhood from various parts of the world, in Thanksgiving to our Father for His Love, for His Blessings, for His Guidance and most of all His Grace and Mercy He so unselfishly bestows upon us daily. We come together with ONE GOAL; We come together with ideas; with projects in mind on how best we can "EMPOWER THE GIRL CHILD." How best we can lift her up so all she does is "SOAR" in every arena of life? With each passing year, we remain in awe of our FAMILIES, FRIENDS, DONORS SPONSORS, who consistently give up of their time, their resources; and show up consistently and out do the previous year. THANK YOU IS NOT ENOUGH, and we are uncertain as to when it would ever be. But there's no one within our Organization that can best express our gratitude better than our National President, Ms. Christine Nkwain.
20TH ANNIVERSARY CONVENTION SYNOPSIS – By Christine Nkwain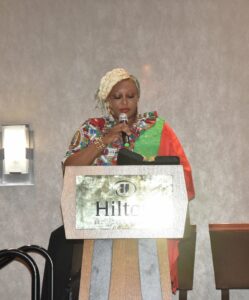 Permit me begin my Word of Thanks by thanking God for all His Mercies that endureth forever. I thank Him for His Grace upon all our lives and upon LESA USA, Inc. I thank Him for blessing us with 20 Years of Excellence and Prowess. I lift up my hands in Honor, Adoration, Thanksgiving, and Praise unto Our God, who sitteth on His Mighty Throne in Heaven. He alone is Worthy! We are nothing without Him! We are Conquerors because He continues to reign amongst us. God showed up on Thursday and stayed with us all through the weekend, easing the events and ironing out the creases that appeared. Please join me in thanking the God we serve and sending forth thanksgiving to Our Blessed Holy Mother, our Matron, who interceded and intercedes for us.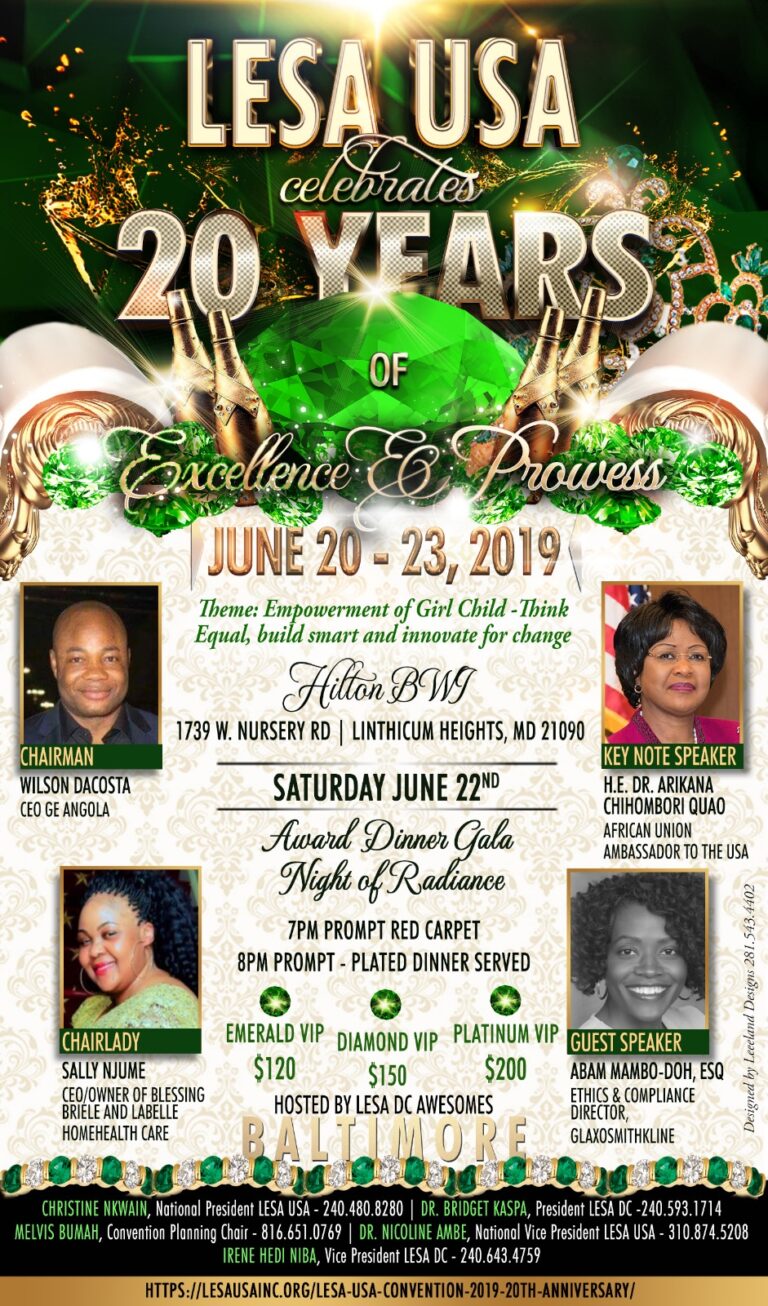 *ARCHIVES – THE REGISTRATION FOR CONVENTION 2019 IS CLOSED*
LESA USA CELEBRATES 20 YEARS OF LOVE, SERVICE & SISTERHOOD!
We are officially less than a month away from our 20th Annual LESA USA Convention in Baltimore! Raise your hand if you are as excited as the Convention Planning Chairperson. The long-awaited time is finally here … IT'S TIME TO ENSURE YOU HAVE ALL YOU NEED for our Convention!!!
THE 2019 CONVENTION REGISTRATION IS OFFICIALLY OPEN
Not registered yet!! What are you waiting for? Click there to Register … [REGISTER – CONVENTION]
And while at it, don't forget to register your family and friends … Our Convention is in the DC Metro Area, and SOLD OUT is the middle name to all parties hosted by the DC Awesomes. Do not say you weren't forewarned.
The Convention
STARTS: Thursday, June 20, 2019
ENDS: Sunday, June 23, 2019.
WHERE: BWI Hilton Hotel – 1739 West Nursery Road, Linthicum Heights, MD 21090
HOST CHAPTER: LESA DC aka DC Awesomes (Mother-Branch)
HOTEL PHONE: (410) 694-0808
Here are some of the vital LESANs you should avert to:
Melvis Bumah, 2019 Convention Planning Chairperson, LESA USA National PRO
Dr. Biddy Kaspa, President of LESA-DC Awesomes
Christine Nkwain, 2019 Convention Project Manager, PRO of LESA-DC Awesomes
As you prepare for the Convention, let's stir things up a bit … How about a little COMPETITION while you're at it? Are you the next winner of LESA USA Inc.'s Convention 5K Walk & Run?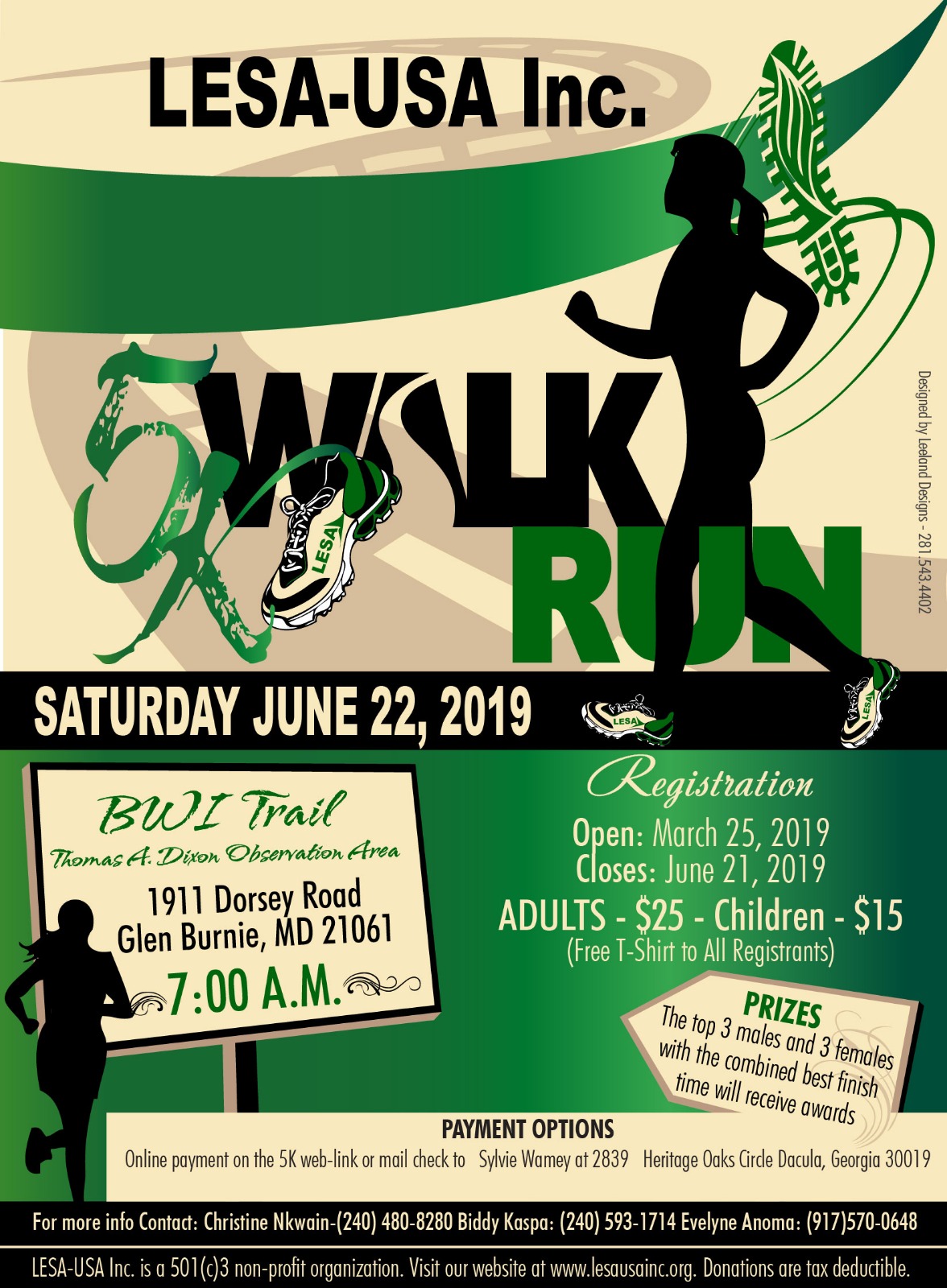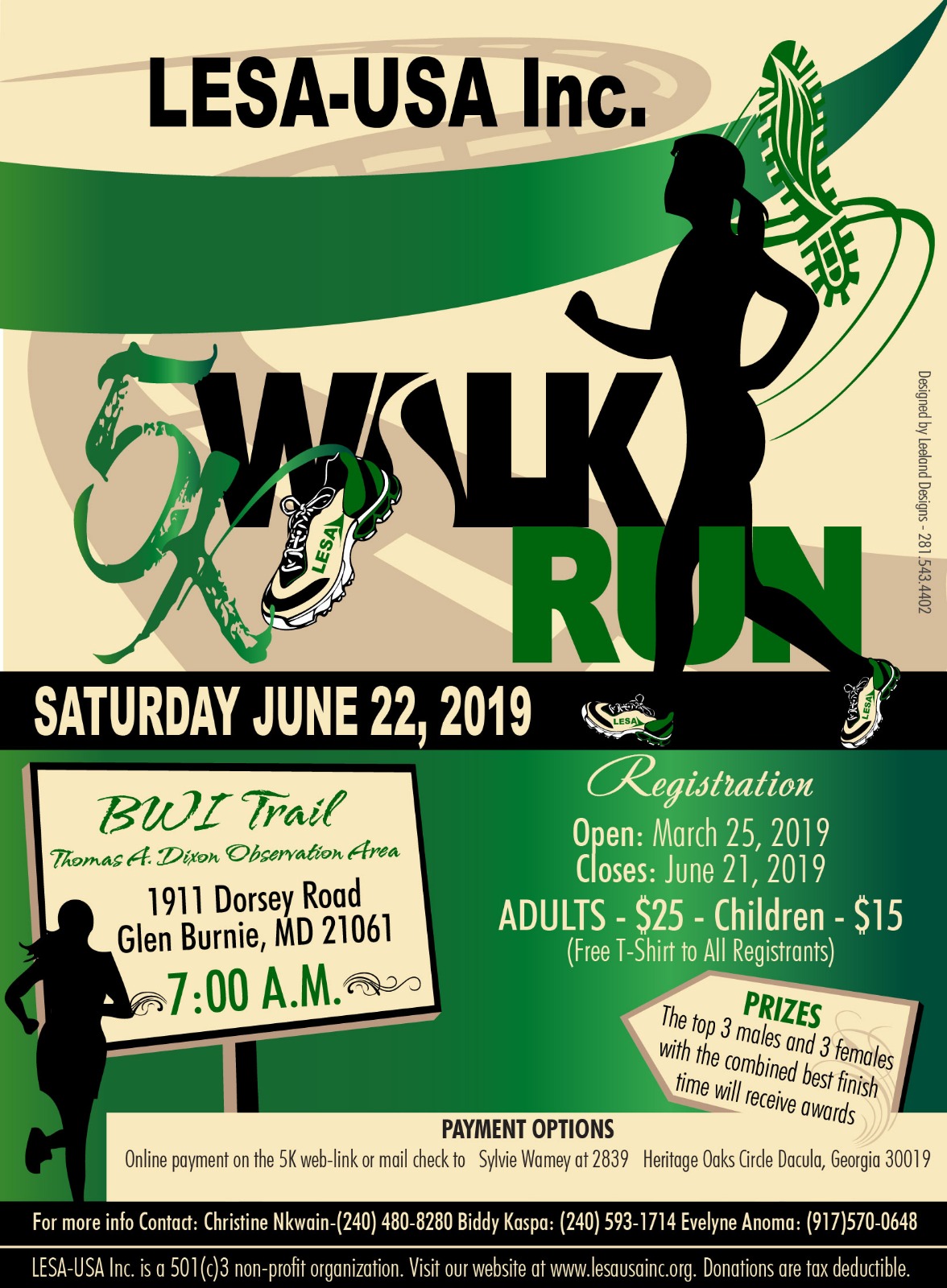 Well, we look forward seeing all runners, even those starting all over again for the 100th time … Click there to register for the 5K [REGISTER – 5K WALK & RUN]
RAISING FUNDS:
Would like to assist in raising funds for LESA USA Inc., but just can't participate in the 5K Walk & Run or make it to the Convention … No worries!! You can still SUPPORT OUR CAUSE/EFFORTS  through our various registration links or by simply donating here [DONATE]. Again, for this and your generosity through the years … we would simply like to say THANK YOU.  Don't forget to visit our Projects Page http://lesausainc.org/projects/; see what we've been up to for the last 20 YEARS & what we have planned for the next 20 years and beyond.
(ATTN MEMBERS: CONVENTION REGISTRATION):
We've got three options available to register for our 2019 Convention (LESA USA Inc. member fee $100):
Payment through your Branch
Direct deposit into the National LESA USA Inc. Convention Account. Please contact our National Treasurer, Mrs. Sylvie Wamey for the Routing & Account #s. Did you know you could even in your payment via Zelle e-deposit? Again, for more information, contact our National Treasurer and remember to immediately email or text the image of your deposit slip or notification alert after the transaction has been completed.
Pay/Register Online: For your convenience … Simply register for the Convention here [REGISTER – CONVENTION](PayPal fees do apply – Example $100 registration is reflected online as $102.60 to include the PayPal charge.
Congratulations to the first 20 LESANs (SSForce and Hosting Chapters members are exempt ), first 20 kids and first 10 husbands who registered in no TIME for the Convention.  As WINNERS you've declared your positions and your price awaits you in Baltimore, MD!!!!!!
HOTEL BOOKING INFO:
Have you booked your room yet?! Records would for sure be broken this year, so don't say you haven't been warned!! Book those ROOMS fast!
HOTEL RESERVATION
FLIGHT INFORMATION
PS: Southwest Airlines had a sale on flights through March 19th, 2019. WHAT!? You missed out on the sale … Well, Let's show you what you MISSED OUT on!!! Now you're left with what Airlines!!? … And have to pay for your carry-on 🙂 … You know with Southwest, 2 bags fly FREE!!! Especially for those of you who are planning on bringing us delicacies.  No excuses … We want our delicacies!!!!!
RT: ATL        $238
RT: DAL        $336
RT: HOU       $364
RT: MSP       $263
RT: LAX        $316
RT: MCI        $336
RT: FLL        $224
RT: TPA        $306
RT: SAT        $396
RT: CLT        $194
RT: MSY       $254
Did we miss anyone?
DRESS CODE:
Thursday 6/20/19
Philanthropic Visit – Official LESA USA Red Shirt / Black leggings or pants
Welcome Dinner – N'importe de couleur
Friday 6/21/19
Lunch Cruise – All White (16 over) leaves at 10:30am
Sister to Sister – All White
Youth Symposium  – Casual Professional
Cultural Soiree – Traditional Attire
Saturday 6/22/19
5K Race – Race T-Shirts provided
Mass – National Uniform
March Pass – National Uniform
AGM – National Uniform
Kid's Outing – T Shirts provided
Adult Gala – Emerald Green 
Youth Gala 14-22 Years
Kid's Gala 5-13 Years
Sunday 6/23/19
Farewell Barbecue – Sexy Orange Top / Jeans
LET THE PLANNING BEGIN!!!
ARE YOU STILL NOT REGISTERED FOR THE 20TH ANNUAL CONVENTION? WHAT'S THE HOLD UP??
REGISTER NOW … We're less than a month away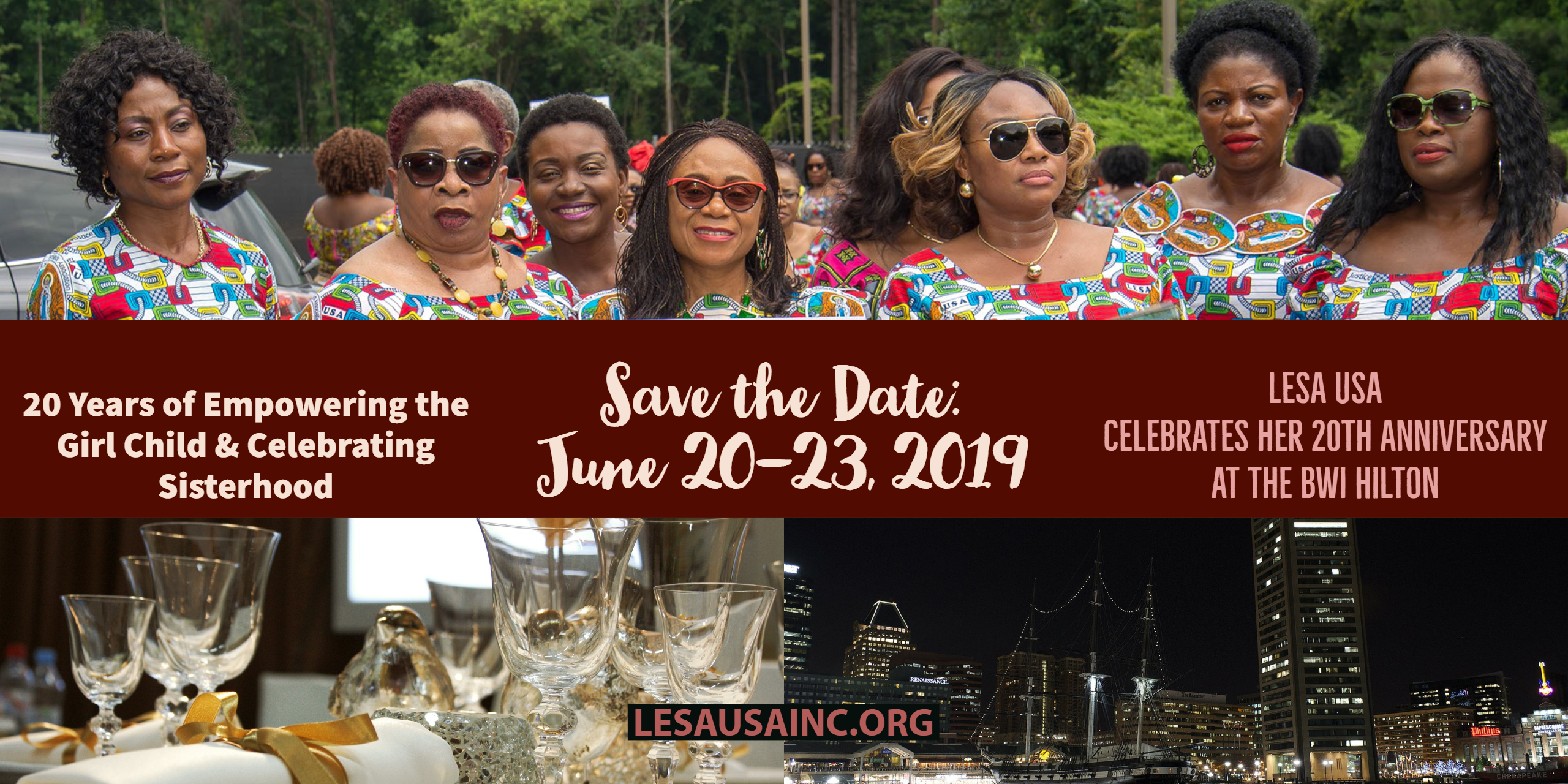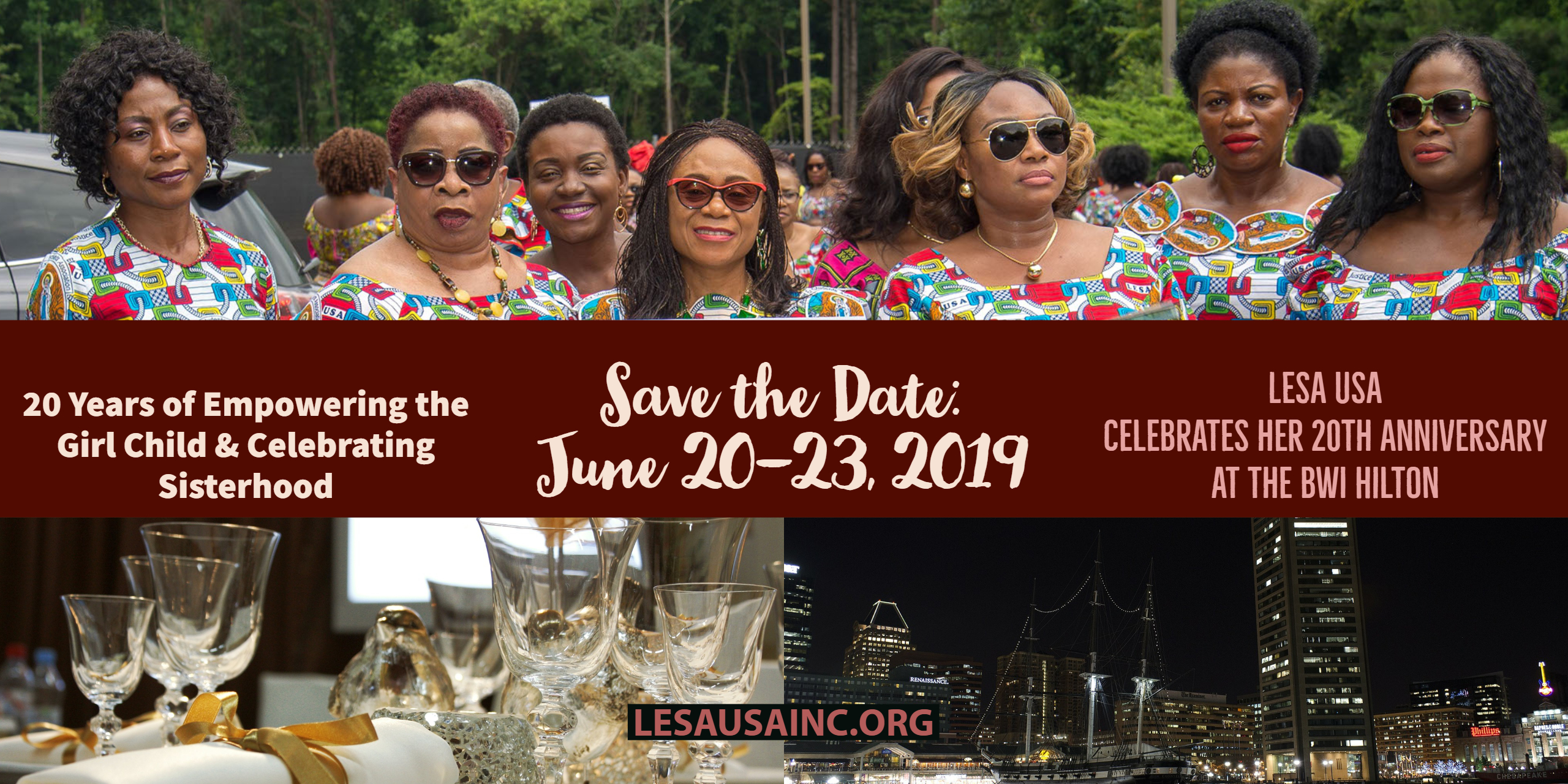 REGISTER FOR THE 2019 CONVENTION